OpenScience
CIGEV OpenScience aims to optimize the efficient use of scientific resources and to enhance collaborative work by providing public access to different neuropsychological test batteries and cognitive assessments tools that have been repeatedly used and widely established in previous research.
The core goals of CIGEV OpenScience are (1) to provide detailed, transparent, copyright-free information that allow researchers to independently reproduce these tools for their own use and (2) to provide free access to ready-to-use materials in a collaborative context.
Below, you can find a brief summary of the different OpenScience Materials with brief descriptions of the tools, their previous application, and references.
For more specific inquiries or additional information, please contact us.
COGTEL (Cognitive Telephone Screening Instrument)
Main references: Haas et al., 2021 (eCOGTEL); Kliegel et al., 2007.
A practical and rapid tool that allows assessing cognitive functioning in a global perspective: short- and long-term memory, working memory, prospective memory, verbal fluency, inductive reasoning. It takes 20 to 30 minutes to administer and provides detailed results (overall score and scores per sub-domain).
In its most recent update, we have developed an online version — the eCOGTEL — that allows for a remote, self-administered assessment of cognitive functioning (for details, see Haas et al., 2021).
You can download detailed instructions manuals below (PDF):
A free demo version of the eCOGTEL (in French) can be found here.
Geneva Space Cruiser
Main reference: Zuber et al., 2021.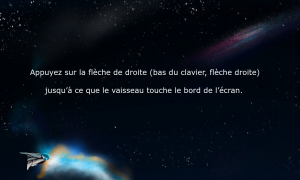 Based on previous versions of the Cruiser (e.g., Kerns, 2000) and the Dresden Cruiser (Kliegel et al., 2013, Voigt et al., 2014), the Geneva Space Cruiser represents a new online adaptation of the serious-game like task that allows assessing participants' prospective memory, that is, their ability to remember to perform planned intentions after delay. It takes 10 to 15 minutes to administer and provides detailed results on participants' prospective memory performance, time-monitoring behavior, and ongoing task performance.
With its latest adaptions, the Geneva Space Cruiser can be used for fully self-administered, remote assessment that does not require any direct (on- or offline) assistance from researchers. A recent study of our team suggests that the Geneva Space Cruiser "represents a rather valid, moderately to highly reliable, and generally useful tool to assess PM in online testing across wide ranges of the adult lifespan" (for details, see Zuber et al., 2021).
You can find free demo versions of the Geneva Space Cruiser below:
You can download detailed instructions manuals below:
These instructions manuals provide a page-per-page guide of the task instructions used to administer the Geneva Space Cruiser online.
If you decide to reproduce the Geneva Space Cruiser, the information provided in the manuals and in the demo versions can be used without copyright and free of charge. However, we kindly ask you to reference the initial validation study below in your projects that use data stemming from the Geneva Space Cruiser:
Zuber, S., Haas, M., Framorando, D., Ballhausen, N., Gillioz, E., Künzi, M., & Kliegel, M. (2021) The Geneva Space Cruiser: A Fully Self-Administered Online Tool to Assess Prospective Memory across the Adult Lifespan. Memory. https://doi.org/10.1080/09658211.2021.1995435
If you would like direct access to our online tool to collect your data in a collaborative context, if you have questions or would require additional information, please contact us (Sascha.Zuber(at)unige.ch).
Laboratory paradigms to assess prospective memory
1) N-back time-based prospective memory task
This task was designed to assess time-based prospective memory in a laboratory setting using E-Prime2® (or later versions). The prospective memory task is embedded in a 2-back working memory task (i.e., ongoing task) for which participants have to indicate on each trial whether the current picture corresponds to the picture presented two trials earlier. The full paradigm consists of two blocks: a block of 'ongoing task only' followed by a block 'ongoing plus prospective memory task'.
This task was used successfully in recent studies assessing healthy adults across the lifespan (e.g., from 19 to 86 years; see e.g., Zuber et al., 2021; Joly-Burra et al., 2022).
You can download more detailed description of the task, as well as ready-to-use E-Prime2® files (ZIP archive, 728.1 kB).